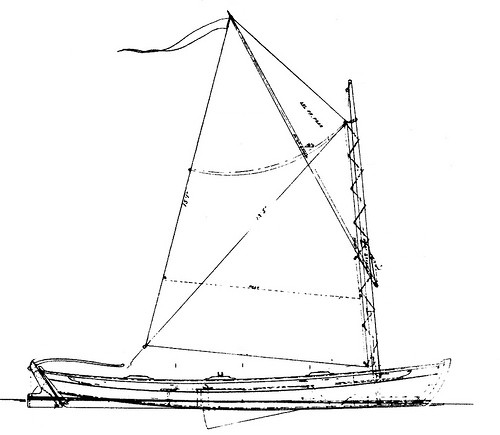 SKIFFS

by Stuart Wier
"Flat bottom skiffs are fine instructors. They can teach rowing, sailing, maintenance, and mechanics -- especially when fitted with decrepit outboard motors. Skiffs should be made available to every young boatman..." - Mike O'Brien

Skiffs are small flat-bottomed open boats used for rowing and often with sail or outboard. They are usually between 11 and 16 feet long, and can carry two or three adults. They can carry some suppiles as well and are very suitable for learning boat handling, harbor work, fishing, day sailing, and almost any job for a small boat in fairly sheltered waters. Sometimes the word skiff is used to mean almost any kind of open boat, but generally skiff means flat-bottomed. This list has flat-bottomed skiffs.

Skiffs are often fairly easy to build. Some designs are very easy to build and some are of intermediate difficulty, serving as an introduction to traditional boat building.

Listed here are first, books about skiffs, and then a list of skiff building plans, somewhat in increasing order of difficulty to build. The books can be ordered from the WoodenBoat Magazine store.

See also SHARPIES and Boat kits and plans for First Time Builders.

Also you might be interested in Get Started Sailing -- Finding a Boat & Learning Boat Handling and Sailing

Books about Skiffs
"Skiffs and Schooners" by Pete Culler.
  See the chapter "Flat Bottoms". No building instructions but many basic ideas.
  A classic book on designing, building, and using classic boats.
  Includes Culler's "Good Little Skiff" (14' with sprit rig) and others.
  Culler's plans (including 19 v or flat bottom boats)  are now in the 
  Mystic Seaport Museum, 
  Ships' Plans Division, 
  P.O. Box 6000, 
  Mystic, CT 06355. 
  203-572-0711

"Good Skiffs: How They're Designed and Built" by Karl Stambaugh.
  Devereux Books, PO Box 503 Marblehead MA 01945 240. pages. $34.95.
  The basics of good flat-bottom design; study plans and reviews of 17 skiffs;
  complete instructions and plans for a 9 foot stitch and glue skiff. a guide to plywoods.
  "Flat bottom skiffs are fine instructors. They can teach rowing, sailing,
  maintenance, and mechanics- especially when fitted with decrepit outboard
  motors. Skiffs should be made available to every young boatman...
  This book offers the best single collection of flat bottom skiff information in town.
  ... Good skiffs belongs at the core of a basic boating library." - Mike O'Brien

"Traditional boatbuilding Made Easy: A 12-Foot Skiff for Oar and Sail" by Rich Kolin
  "Heidi" a 12-foot lapstrake-side, flat-bottom, skiff in solid wood.
  Intermediate construction difficulty -- not the simplest method.
  Traditional methods with planks and bronze boat nails, paint, varnish, etc.
  "the perfect boat for those who are new to traditional construction"
  "an ideal size for rowing, sailing, and exploring"

10 Wooden Boats You can Build, Peter Spectre, editor. WoodenBoat Pub. 196 pp. 1995.
  Articles from past issues. Abundant photos of building steps.
  The "Yankee Tender" a flat bottomed skiff.

"Flatbottomed skiffs" article in WoodenBoat number 87. 

"Perfect skiffs" contest results, WoodenBoat number 103.



Skiff Plans

Doug Hylan and Associates
  A really fine 15 foot 4 inch sailing and rowing Chesapeake skiff; see review in
  WoodenBoat #157, pp. 74-75.  "It's simple
  and inexpensive, but it is not cheap." Plans $60.
    PO Box 58
    Brooklin Maine 04616
    (206) 359-9807

"Building the Weekend Skiff." [book] R. Butz. 80 p. 15' plywood rowing skiff
  "adapable for sail or outboard" from Tiller Pub. 1 800 6TILLER

Chesapeake Light Craft, Inc.
  stitch and glue kits
  "Jimmy" skiff 13' 3" beam 4'2"; weight 96 lbs; sail and row
   also a 40 page stitch and glue manual
  1805 George Avenue
  Annapolis, MD 21401
  (410) 267-0137
  email to kayaks@clcinc.com      
  http://www.clcboats.com

J. Gengler
 15 foot outboard fishing skiffs: plywood, epoxy, stich and glue
  Rt 2. Box 209
  Plainfield, WI 54966

Kristjanson Boatworks
  easy plywood / epoxy construction kits, or plans with patterns are $60.00
  10' & 12' skiff, beams 49" and 55", weights 75 and 110 lbs
  123 E. Edgar St.
  Seattle WA 98102

Swan Designs
  many designs, 10 to 26 feet; oar, sail, power: 60 page study packet $9.00.
  Mostly plywood skiffs. Kits.
  "Little Gem" 13'6" x 4'4" row or 4 hp outboard; also sails
  "Winterhawk" 15' 3" foot by 5 foot plywood daysailer, rows as well.
  "Shadow" 15'5" by 4'5" skiff
  "Nez Perce" 13'6" by 4'11' outboard wood skiff
  "If you haven't seen Ken Swan's plans for small plywood boats, I suggest
  that you check them out. I have built one of his (and one of Bolger's) and
  can recommend both the plans and his accessability and advice. I
  especially like his small power/row designs. "
  P.O. Box 267
  Hubbard, Oregon 97032
  (503) 982-5062

Jacques Mertens / Mertens-Goossens NA
  offers several stitch and glue plywood designs for the home builder.
  For this selection these are the boats I would choose:
  Sharpie 14: 14'4" x 4'6" for sail, oars, and outboard in that order
  Flat Skiff 14: 14' x 4'6" outboard for 1 to 7 hp; better than department
    store aluminum utility boat, looks better, and cheaper too.
  343 23rd Street S
  Vero Beach, Florida 32962 (407) 567-8422

Miles Yacht design
  plywood skiffs, 4 designs, 13 to 15 feet, for sail and oar.
  study plans $5.00
  3501 50th Ave. N.E.
  Tacoma Washington 98422

Pygmy Boats Inc.
  14' 6-chine rowing skiff (75 to 90 hours to make),
     in  stitch and glue plywood; "no power tools required"
  send $2.00 for a color catalog.
  PO Box 1529
  Port Townsend, Washington, 98368
  (206) 385-6143
  www.pygmyboats.com

Jordan Boat Works
  "Footloose" - a 15' x 5' 6" daysailer; can also be rowed or small outboard.
   Based on a flattie skiff. Simple plywood construction.
   79 sq. foot sprit sail is very easy to rig and use.
   Judging from the photos it looks like a good all-around boat for
   sail, oars, and outboard that is fairly easy to build. Might be a bit more
   stable and a bit less speedy than the Merry Mac.
   info $2.00
   PO Box 194
   South Beach, Oregon 97366

Windward Designs, designs by Karl Stambaugh
  "Windward 15"
  15' plywood sailing skiff (see photo in WB number #124 p. 115)
  Very nice shape based on traditional Chesapeake boats.
  and several similar boats.
  $10 for complete plans catalog.
  794 Creekview Rd.
  Severna Park, Maryland 21146 (800) 376 3152
  see also article on Bay Skiffs in Wooden Boat number 88.

Steve Redmond designs
 "Bluegill" 15'4" x 4'9"  "a light flat-bottomed skiff designed for use as an
   efficient planning outboard-powered fishing boat and sailboat. She has more
   capacity than our other boats and is an ideal family boat."
   A builder says: "We used one for fishing for the better part of 10 years,
   then sold it to a good family. Plywood on frame construction,
   straightforward & quick.  Easy to build and maintain."
 "Flapjack 13'10" x 4'6"  a handsome, light-weight rowing skiff and enjoyable
    spritsail sailing craft" glued plywood lapstrake
 "Whisp 15'7" x 3'6" fine-lined high-performance ultralight sharpie skiff
    for oar and sail" [probably too tippy for beginning family sail use]
  Steve Redmond plans are now available, after a long need, from
  Steve Redmond's excellent web site at
                        http://www.sredmond.com/

Stimson Marine
  "Pine Island Skiff" 15' 4" "excellent fast stable and handsome"
  "Swallow" nice 12'x 4'2" sailing and rowing skiff; lug sail.  plans $64;
     fabric on frame!
  "Sea Urchin" 11'5" x 4'4" rowing and sailing skiff; sprit sail.  plans $41
      simple wood construction. full sized patterns.
  "Osprey": 15' flat-bottom sailing skiff
  Stimson Marine
  RR1 Box 524
  Boothbay Maine 04537
  800 373 6313

Arch Davis
11' "Sand Dollar" 
   a skiff for "a novice builder who would like to put together
    a really graceful craft and learn some basic skills in the process."
   Lug, sprit or gunter rig; centerboard; kick-up rudder. Beam 3' 11" 
    photo p. 97 WoodenBoat 144. Building video available.
    Two-page design discussion and drawings, WoodenBoat #147 pp106-107.
  "extraordinarily detailed plans make this project suitable abd educational
    for first-time builders."
Arch Davis Design
RR4 Box 39 Belfast maine 04915
207-930-9873

Woodenboat magazine # 150 - 152  Sept 1999  - Jan 2000
  "Building the Martin Skiff"; 3 parts. A rowing skiff for 2 or 3 adults. 
  "Ideal for fast rowing on flat waters or in a moderate chop"
   traditional construction; all solid wood plus plywood bottom.  



from from "Building Classic Small Craft", by John Gardner, 320 pages, 250 illus. 1977.
     14' x 5' sailing flattie skiff
     18' Quincy skiff, easy, inexpensive, for recreational rowing.
     14'9" Lowell dory skiff; stable, for small outboard or rowing (sort of
           a nice classic boat, easy and cheap)
     18' or 20' 2-masted sharpie.  5'4" beam. "As a daysailer for a family with
        young children there could be no better boat. She would also be a great
        boat for the home builder because of her extreme simplicity."
        [in many cases I would choose Reuel Parker's 18' sharpie in preference]

from "Classic Small Craft You Can Build," John Gardner. Mystic Seaport, 1993.
   13'9" sharpie skiff in plywood; good youth project with complete building
     instructions; NOTE for rowing only.
   18' plywood river bateau, NOTE rowing only, similar contruction to the skiff.
   14' flatbottom skiff to sail and row, can also use a small outboard.
      "sailing this skiff will require some agility on the part of the person
       using it." maximum beam about 4'2"  plywood on frame.
   Here is a complex one to build but highly regarded for rowing (only).
   13'6" Amesbury skiff. 
     "In my opinion these Amesbury skiffs were the best
     small rowboats ever built for everyday use around the waterfront, and
     nothing that has occured since has caused me to alter this judgement."
     Coming from Gardner that is a strong endorsement. These are strictly for
     rowing, not for sail, and there is no place to mount a motor on this hull.

Harry Bryan. 
  "Daisy" 12'6" dory skiff to row or sail. Building instructions in
  WoodenBoat magazine numbers 126 and 127. intermediate difficulty.
  RR 4, Saint George, 
  New Brunswick 0G 2Y0 Canada (that may be 06 not 0G)
  phone 506 755 2486

"Roger's skiff"
  A good  11' skiff to row and sail, described in the first chapter of
  Roger Taylor's "Fourth Book of Good Boats." Unfortunately plans were not
  drawn of this boat, which was built long ago by eye. An experienced
  boat builder might try to recover this boat.  Would be
  easy construction if we only had some measurements. 3 photographs.


Part of the old Great Encouragement to Boatwights web site
---